Media & Awareness
Press Coverage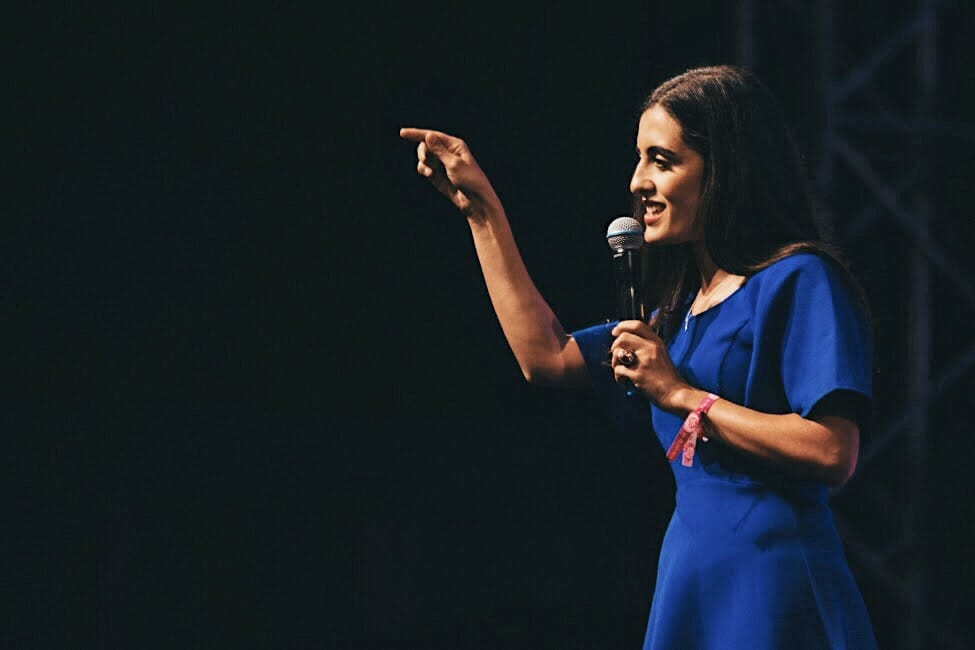 Roads of Success in the News
Our awareness efforts ensure that the voices and needs of women and

youth

in the Middle East are heard and responded to. Our stories have been covered by outlets across the globe including C-SPAN, BBC, ABC, NBC, FOX, AL-ARABIYA, EFE, and many more.
SoCal Woman Risks Life for War Survivors Fleeing ISIS
Spectrum News 1 / August 26, 2019
As Shakespeare once said, "Though she be but little, she is fierce." Yvette Isaac is a petite Egyptian American woman, with a massive mission to change the world. The Pasadena-based humanitarian mobilizes volunteers in SoCal to donate resources for refugees and Internally Displace People in the Middle East, impacted by ISIS. Read more… 
---
Checking in with Reformer Jacqueline Isaac 

Nations Media / April 23, 2019
When we last saw Jacqueline Isaac, she was spearheading the healing work of Tech Over Trauma in Germany, instilling hope in a generation of girls who refuse to let their past trauma define their future. Over the last five years Jacqueline has offered her platform to distressed individuals and communities in the Middle East, particularly women freed of sexual slavery. Read more…  
---
Courage to Witness

Nations Media / 2018
It's fasnacht—"carnival"—week in Konstanz, Germany and the streets are buzzing. Grown men in furry, bell-laden costumes jingle past clowns and street musicians. Young women in harlequin tights and skyward heels teeter down cobblestone sidewalks. It's a playful dichotomy set against the medieval architecture of this mystical lakeside town. Read more… 
---
An Interview with Jacqueline Isaac

Nations Media / 2017
Jacqueline Isaac sat in front of  TV cameras, under hot studio lights, getting drilled by British news anchor Jon Snow, and she hardly remembers any of it. "I can tell you that those few minutes were led by the Holy Spirit; it wasn't me speaking at all," she says. Read more… 
---
Testimony on ISIS Genocide: Parents Shown Video of Daughters Raped, Tortured – Given Body Parts in Bags 

CNS News / September 1, 2016
As the Islamic State continues its genocide against Christians, Yazidis, and other religious minorities in Syria and Iraq, human rights activist and lawyer Jacqueline Isaac testified at the United Nations about some of the atrocities, including parents in Syria who were shown a video of their kidnapped daughters being raped and tortured by ISIS, and then given the dismembered body parts of their daughters in plastic bags. Read more… 
---
UK urged to give asylum to 100 women who fled ISIS captivity in Iraq         
The Guardian / April 1, 2016
Campaigners have called on the British government to grant asylum to at least 100 women and girls who escaped after being kidnapped and raped by Islamic State militants in northern Iraq. Isis fighters have abducted thousands of girls from ethnic minority communities in northern Iraq and forced them into sexual slavery since overrunning the area in 2014. Read more… 
---
UNCA Press Conference with lawyers from Roads of Success on victims of war and advancing equal rights and women's rights across the Middle East

United Nations Correspondents Association / June 12, 2015
On Tuesday, June 9th, the U.N. Correspondents Association held a press conference with lawyers from Roads of Success on victims of war and advancing equal rights and women's rights across the Middle East. Read more… 
---
ISIS and Religious Minorities 

C-SPAN / May 13, 2015
Witnesses testified on ISIS* attacks on religious and ethnic minorities in Iraq and Syria, as well the looting of cultural and religious sites. The hearing focused on humanitarian and security needs, and pending congressional legislation to help those displaced from their homes by the militant group. Read more…
---
Local Woman Brings Attention to Plight of Girls   

NBC San Diego / April 7, 2015
A local woman is returning from Iraq, after spending time with young girls who were raped, abused and tortured at the hands of ISIS. Jacqueline Isaac is Vice President of Roads of Success, a humanitarian non profit organization, helping in the relief crisis in the Middle East. Read more… 
---
SoCal woman seeks asylum for rape victims 

ABC 7 / March 30, 2015
About a decade ago, Jacqueline Isaac's family founded Southern California-based non-profit Roads of Success. The goal? Help those suffering in crisis situations. In the last year, she's traveled several times to Iraq to help victims of captivity. Read more… 
---
Exclusive Preview of War Rape Testimony before Congress Tomorrow 

HuffPost / March 5, 2015
American lawyer and humanitarian Jacqueline Isaac — who earlier this year helped bring a team of psychologists, counselors and clergy to traumatized young girls and women in Iraq who had escaped or been rescued from their captors after enduring months of torture and sexual abuse — will testify before the House Foreign Affairs Committee Wednesday at the invitation of committee chairman, Rep. Ed Royce (R-California). Read more…
---
US delegation briefed on the situation in the Kurdistan region  Iraq Hurr / February 23, 2015 
An American delegation comprising a number of specialists in various fields arrived in the Iraqi Kurdistan region to get acquainted with the situation in the region, visit the camps of the displaced and study their needs, and convey a picture of the reality of Iraqi Kurdistan to the American society. Read more… (English translation here)
---
Impregnated, brainwashed and broken: The misery of IS sex slaves

Middle East Eye / June 10, 2014
An enslaved Iraqi women endured a nightmare of sex abuse and mental cruelty. The militant's comments were relayed to Jacqueline Isaac, a charity boss, who has met dozens of victims during three visits to northern Iraq's autonomous Kurdish zone these past seven months. Read more…

Donate Today
Spread the joy and contribute now in no time, both Monthly & One time donations are available.
Donate Today
Get Involved